Iconic foods served at the San Francisco Giants ball park pair with an elegant, aged, and organic Cava from Gelida.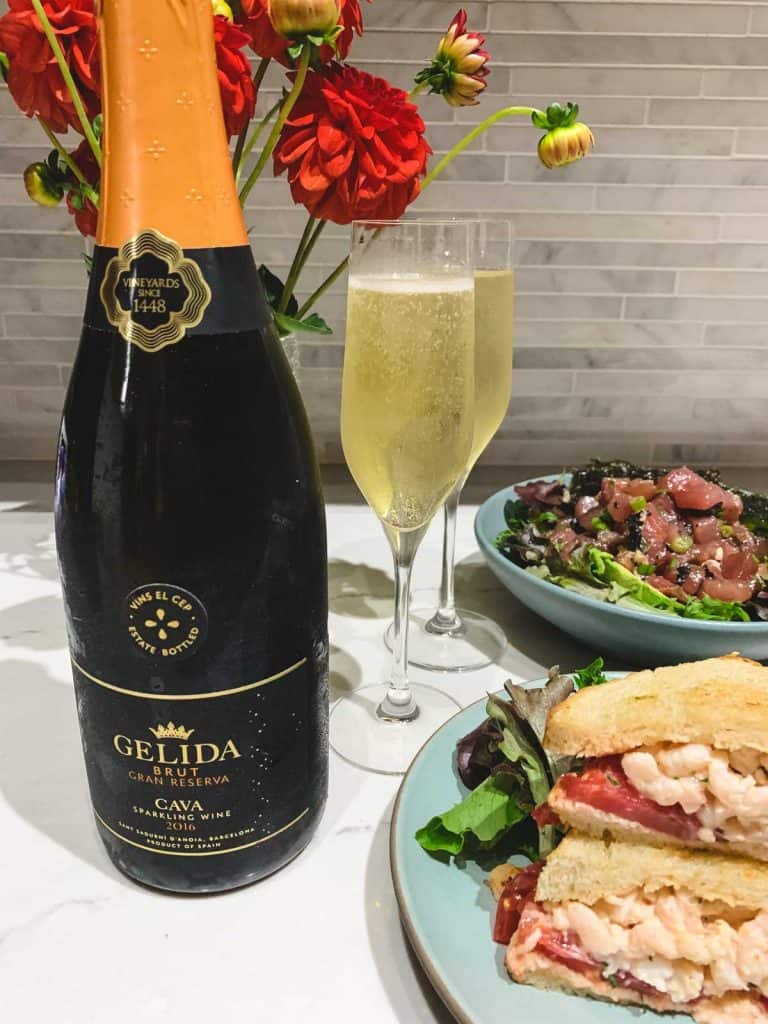 Disclosure: I received the wine discussed in this post as a media sample. All opinions are my own.
The San Francisco Giants regrettably did not prevail against the Dodgers in the post season this year. Luckily, I still scored this week with a beautiful Cava from Gelida.
Admittedly, I am a sparkling wine super fan, but I especially prefer sparkling wine made in the methode traditional where secondary fermentation takes place in the bottle. It requires much more care and effort and for that reason makes each bottle even more special.
Cava, like Champagne, is distinct because all the wines are made in this method.
Unlike Champagne, Cava can be found at much more affordable price points with bubbles that are just as fine and some are even aged.
I very fortunately received a gorgeous Cava made from organic grapes.
2016 Gelida Brut Gran Reserva Cava
50%Xarel·Lo, 20%Macabeu, 15%Chardonnay,15%Pinot Noir
$18
From Vins El Cep, this winery has a female winemaker and all their vineyards are certified organic and estate owned. They were also the first producer in Spain to bring biodynamic practices to their vineyards.
Aged a minimum of 40 months, the Gelida is the winery's flagship wine.
Visual: gold flecked, faded bronze, soft bubble (you can tell this is aged because the bubbles are not as wild), lots of foam as it pours that dissipates to a thin rim
Aroma: yellow peach, melon, honeydew, hibiscus flowers, very pretty
Taste: Martinelli's apple juice, almost a peppery back bite, honeyed, lime pith
Cava Discovery Week
This year Cava Discovery Week was came to the US in 2021 from October 9 - 17. Per, the D.O. Cava website, "For an entire week, various restaurants, retailers, wine bars and specialized establishments will offer different activities, with Cava as the main accompaniment to every dish."
Sparkling wine is extremely versatile, and Cava is no different.
I also wrote about a Reserva Cava paired with Korean food that worked incredibly well with all the varying flavors in the cuisine - spicy, sweet, sour, savory.
Cava week this year also coincided with baseball playoff season, and since I planned to drink the Cava while watching the ball game, I had to pair with with ball park food!
SF Giants Ballpark Inspired Menu
The variety and quality of the food at Oracle Park is legendary, and about a million times better than Levi's Stadium down the peninsula where 49ers football games are held.
I used to think the ballpark food was terribly expensive but with inflation and the overall high prices of San Francisco food, $10-15 for entrees doesn't seem so cringeworthy anymore.
I recreated some of my favorites to pair with Cava.
Crazy Shrimp Sandwiches - on buttered sourdough with heirloom tomatoes and avocado aioli
The only thing not to like about these sandwiches is the line. The line to get them at the ballpark is so long! They're easy enough to make at home too.
Normally these are made with crab (a la the Crazy Crab'z stand), but Dungeness crab is not quite in season yet. When I went to the last season
Gilroy Garlic Fries - organic russet potatoes, fresh parsley, and extra virgin olive oil
Instead of deep frying (since I never deep fry at home), I parboiled then cooked them at super high heat in the oven. They were kind of crispy, but to be honest the garlic fries at the ballpark vary in crispiness depending on the batch.
Traditional Hawaiian Poke - wild ahi tuna, seaweed, green onion, and sesame oil over a bed of organic spring mix and creamy avocado slices
From the da Poke Man stand, this is one of the healthier options offered at the ballpark. I usually always get it with spring mix instead of tortilla chips or rice. One thing they don't offer at the ballpark is the avocado, so if you add it at home, it just makes it a homerun.
The Last Drop
This gran reserva Cava paired seamlessly with the meal. Refreshing with the garlic fries, and the garlic brought out more apple notes in the wine.
The wine lifted the poke with the avocado bringing out pineapple and tropical notes in the wine.
With the shrimp sandwiches, the wine became a little more racy and accentuated the bit of hot sauce I put in the shrimp mix.
For under $20, this is a high quality, value wine that I would purchase again. It doesn't even need any food. Just you, a glass, and maybe a ball game.