These little cans of sparkling rose wine are the equivalent of one glass of wine ad travel flawlessly for picnics and tailgates. But how do they taste?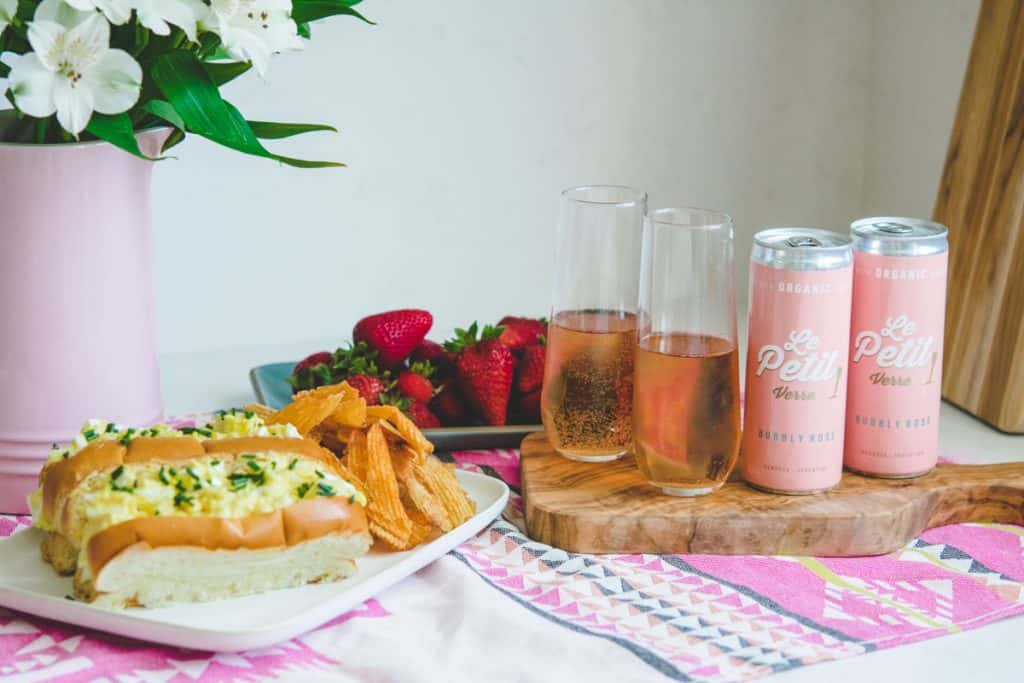 Disclosure: The wine featured in this post was received as a media sample. All opinions are my own.
I was just about to shoosh off these canned wine numbers, until I tasted one, then another, and another, until the 4 pack was gone.
Addictive little things, but they make quite a bit of sense to package in such a small quantity. Opening a bottle of sparkling wine is somewhat of a commitment. You either need a friend, a party, or some kind of occasion to open one.
But you don't need to bother with any of that to open one of these cans. Perhaps that's what makes them so precious. Rather than a regular 12 oz can, these skinny cans are also extra portable.
Canned Wine Craze
According to Market Watch, canned wines comprised $200M in sales in 2020, an increase of 68% over the previous year but still a very small piece of the $70 Billion dollar wine market in the US.
Perhaps it will remain in the minority, like screwcap wines, but what matters in the end is the quality of the wine inside, rather than the packaging outside.
100% Organic from Argentina
I guess what I like most about these cans is that they are made with 100% organic grapes from Argentina in the Tupungato Valley in Mendoza.
One of the pioneers of organic wines in Argentina is Domaine Bousquet, founded by 3rd generation French vintner Jean Bousquet. Per this article in Forbes, he vacationed in the Mendoza region of Argentina in 1990 and thought the high altitude terroir would be ideal for natural, organic winemaking.
His daughter, Annie Bousquet, now runs the company with her husband, and they created this wine under their Origins Organic Imports wine label.
Hence, the name of the wine is La Petit Verre, which means "little glass" in French.
These little cans would pair with just about anything, but I decided to pair easy drinking with an easy to assemble egg salad picnic.
Easy Egg Salad Picnic Menu
Organic Egg Salad with Avocado Oil Mayo and Chives in Brioche Buns
Organic BBQ Potato Chips
Fresh Organic Strawberries
Pro Tip: The key to flavor with an egg salad sandwich is temperature. Consume it soon after mixing with mayo while the hardboiled eggs are still semi-warm. Eating the egg salad straight out of the refrigerator is a recipe for sadness, since it will taste cold and lifeless.
La Petit Verre Bubbly Rose
50% Pinot Noir, 30% Syrah, 10% Pinot Gris, 10% Viognier; 12.5% ABV; $13 fo a 4 pack or $3.50 per can
Visual: Surprisingly fine bubbles that dance in the glass, not as large as I had expected! Pale peachy pink, rosy salmon hue.
Aroma: Lots of watermelon, fresh cut strawberries, and a touch of lime zest
Taste: Refreshing, slightly tart, soft citrus pucker like raspberries. Does well on its own or with food.
Pairing: Does it exactly what I wanted it to which is lift the creamy richness of the egg salad and match the acidity in the mayo. Doesn't play as nicely with the BBQ chips, maybe they were a bit too sweet. Works so nicely with the fresh strawberries, and they just look pretty together.
The Last Drop
Sparkling rose is probably the most versatile wine that will pair with anything. The Le Petit Verre cans of bubbly are no different.
The packaging and the pucker is inviting and amenable to most any occasion or person.