Portugese grape varietals make stunning sparkling wines paired with traditional Indian cuisine from the former colonial region of Goa.
Portugal is famous for world class Port wine, but these biodynamic wines from Aphros made from unusual grape varietals are noteworthy as well.
Vasco Croft started the Aphros project in 2003 on land that belonged to his family since the 17th century. While he himself started his career as an architect and furniture design company owner in his twenties, his thirties brought forth a fortuitous encounter with a Bhuddist that coincidentally involved a bottle of wine!
Vasco perceived the meeting as a personal brush with the wine god himself, Dionysus, "the god of the grape-harvest, winemaking, orchards and fruit, vegetation, fertility, insanity, ritual madness, religious ecstasy, festivity and theatre in ancient Greek religion and myth."
After the meeting, he began converting his family's property, over 20 hectares located in northwest Portugal, to a modern winery, instituting water management, vine replanting, and land shaping.
In 2006, Vasco started instituting biodynamic practices. Per the website, "there are suspicions that Vasco is a Faun in disguise, living a delightful decadent life in the winery surrounded by beautiful Nymphs – while wishing this would be true, he tries to cope with the manifold hardships of running a winery."
While he has since expanded his vineyards to other properties, the main varietals he grows are Loureiro, Vinhao, and Alvarelhao.
2015 Aphros Loureiro Espumante Reserva Bruto, Vinho Verde
100% Loureiro, Champagne Methode, aged 4% on the lees, Biodynamic, $24
Loureiro is a grape so light and subtle it makes Audrey Hepburn look like a heavy weight.

Jonathan Nossiter
This light skinned grape is grown primarily in northern Portugal and used to make the famous wines in the Vinho Verde and Rias Biaxas regions, along with being blended with Albarino.
The grape dates back to the 18th century and its name comes from the word "laurel" due to its aromatic scent. They generally make for high acidity and low alcohol wines.
With a subtle bronze hue and scent of white flowers, the taste of this Loureiro from Aphros was rather unusual. A little bit of pucker but not overly acidic, with some herbal undertones, rosemary, mint, eucalyptus, and toasty caramel showing its age. It tasted a bit like a campfire scene with smores, glowing embers, and that unmistakable forest fragrance.
2014 Aphros Vinhao 'Pan' Espumante Rose
100% Vinhao, Champagne Methode, aged 26 months on the lees after primary fermentation, Biodynamic, $24
Vinhao is a dark skinned, red grape that makes intensely colored but lighter styled red wines in the Vinho Verde region of Portugal and parts of Galicia in Spain. Due to its high acidic content and potential for high alcohol, it is often blended into Port wines.
This particular sparkling Rose wine from Aphros just had to briefly macerate with the grape skins to yield a rosy, salmon hue.
In contrast to the Loureiro, this Rose had a deeper, richer character with similar woodsiness, but a bit more structure due to the bit of residual tannins. Also showing some age from 2014, the acidity tasted more like citrus pith rather than juice and strawberry stems along with fruit.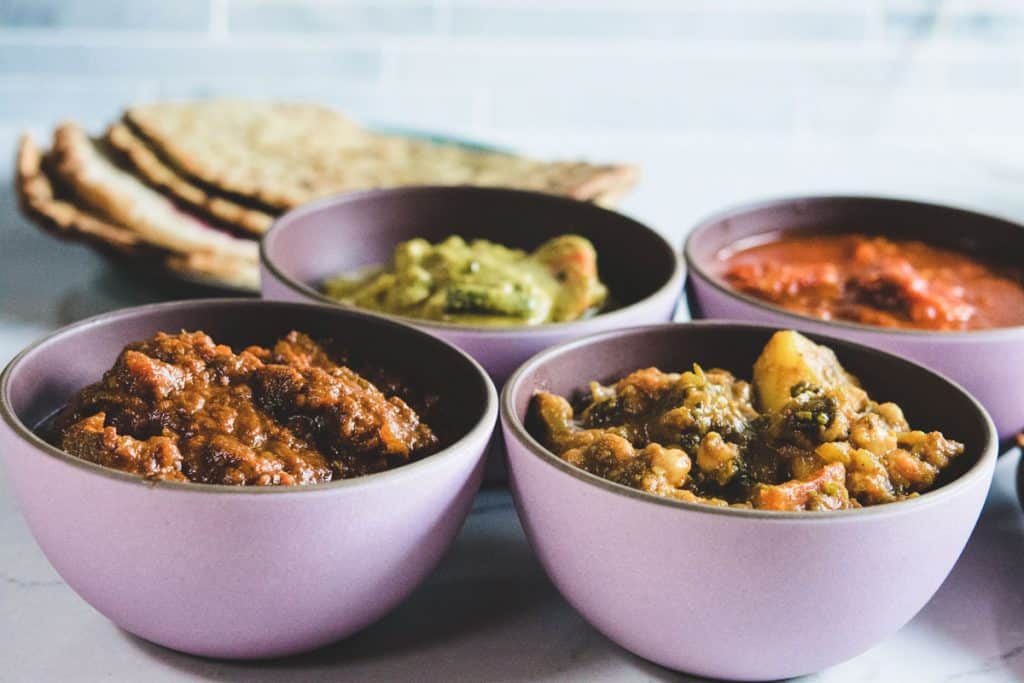 Traditional Goan Cuisine
I thought of pairing these aged sparklers with traditional Portugese seafood faire, but life got the best of me and opted for colonial takeout instead from Viva Goa in San Francisco.
A Portugese colony from 1510 to 1961, Goa is located on the west coast of India and an important trading hub for Eastern spices and Portugese rule for 450 years.
As you would expect, the cuisine of Goa shows heavy influences from Portugal such as the introduction of okra, cabbage, green beans, cauliflower, spinach, and eggplant. Vindaloo curry also stems from the Portugese dish, carne de vinha de alhos, or pork cooked with wine and garlic.
Goan Menu
Channa Xacuti - Garbanzo & potatoes cooked in traditional curry of Goa made with fresh coconut, red chillies, poppy seeds & spices
Vegetable Caldin - An authentic Goan dish of vegetable cooked with corriander coconut juice, turmeric garlic, cumin seeds & Goan spices
Prawn Ambot Tik - Prawns in a sour & spicy sauce cooked with onion, tomato, dry chilli, ginger-garlic, tamarind & spices
Goan Lamb Masala - Lamb with onions, tomato, ginger, garlic, corriander & variety of spices
Kabuli Naan - Naan stuffed with cherry, raisins & nuts
Onion Naan - Naan stuffed with onion & herbs
Paneer Paratha - Wheat bread stuffed w/ homemade cheese
Roti - Whole wheat traditional Indian bread
Pairing Notes
The clear winners for pairing with both of the wines were the two vegan dishes: channa xacuti and vegetable caldin.
I had never had such tasty garbanzo beans in the Channa Xacuti, which seemed to have some fresh herbs like and cilantro and mint blended into the spice paste, which matched very nicely with the herbal undertones in the wines.
Similarly, the Vegetable Caldin was mild enough for the muted acid in these aged wines. The bubbles too made a nice foil with the rich coconut milk in both curries.
As for the lamb and prawn dishes, they were noticeably outmatched in weight and spice for these more delicate wines. Aside from the different stuffings in the naan breads, the dough appeared to be exactly the same so I didn't notice too much difference in how these paired with the wines, except that the fruit stuffed Kabuli Naan had bright red maraschino cherries that I had never seen before and I liked the play of sweetness with the wines.
I don't know that I'll pay $82 for takeout again (San Francisco prices!), but I would definitely purchase these Aphros sparkling Portugese wines at $24 each. Well worth the cost for biodynamic wines that can easily be enjoyed with or without food.
Explore new and unusual wine varietals
Learn more about lesser known grape varietals and the foods that pair with them from the Wine Pairing Weekend writers: