Unusual grape varietals from the Orvieto DOC paired with bites inspired by the local Italian region of Umbria.
Disclosure: The wines discussed in this post were received as media samples. All opinions are my own.
Italy never ceases to amaze with its food, beauty, and wines, especially from its very own indigenous grapes. So many different, unusual, and glorious kinds!
Marcia from the Joy of Wine wrote a very comprehensive post on all the different varietals you can find from each region here, and one of the regions she highlights is Orvieto.
Located in central Italy in the region of Umbria, Orvieto is also known as Old Town for its ancient history that dates back to the Etruscan period in 9th century BC. Between the 13th and 14th century, its population swelled to more than 30,000 people, which was larger than Rome.
It also has a long history of viticulture. Wine in Italian is called "vino," which came from the Umbrian term for wine "vinu" in 5th century BC. Vinu derives from the Latin term "vinum."
The flagship wine of Orvieto are the Orvieto white wines made from indigenous varietals of the region. Orvieto Classico is made from the oldest, most traditional production areas. The white wine is required to have at least 60% Grechetto, Trebbiano Toscano, or Procanico, while other varietals can make up the remaining 40%.
Grechetto is known to be well structured, high alcohol, and medium acidity grape with notes of white flowers, chamomile, and lime.
Trebbiano is usually blended into other wines, since it lacks personality so to speak. Kind of like Switzerland: neutral but safe and adds structure and aging potential to a blend.
Source: Orvieto DOC: History, Terroir, Wineries by Consorzio Tutela Vini de Orvieto
Since these wines hail from Umbria, I thought I just had to pair them with food inspired by the region.
Umbria is the only region in Italy that doesn't touch the sea. The cuisine thereby centers on land commodities, namely pork, truffles, and eggs. The local cheese they are widely well known for is Pecorino, made from sheep's milk.
Since I wanted to see how the wines played with lots of different types of food, I made an antipasti misti spread. Antipasti are the appetizers one eats prior to a festive Italian meal. Misti means mixed. And in my case, it just means dumping a bunch of stuff on a board and not having to do many dishes after (yes!).
All this paired with three Orvieto Classico wines, two of them also carrying biodynamic certification.
2021 Cantina Altarocca Arcosesto Orvieto Classico DOC
50% Grechetto, 30% Procanico, and 20% Malvasia; Biodynamic certified; 12.5% ABV
Located in a suburb of Orvieto, known as the 'Town of Roses', Altacrocca has 11 hectares of vineyards on volcanic soil. Production is currently at 50,000 bottles per year with plans to expand and all from grapes exclusively grown to organic rules and regulations.
Tasting Notes
bronzish and the haziest of the 3 wines
ooh, very nice on the palate, kind of got some arugula spice, really balanced and a whisper of acidity and even a little tannin
really takes the Pecorino toast; warms up and gets a little spicier; likewise with the spicy salami
soooooo good with the asparagus frittata; eggs never had it so good!
refreshing with the mushrooms (which is interesting because are mushrooms refreshing?)
2020 Barberani Castagnolo Orvieto Classico Superiore DOC
Barberani is one of the most famous wineries in the region. Founded by Luigi Barberani, who started working in the industry in 1961, the winery is now carried on by his two sons, Bernardo and Niccolo. Located near Lake Corbara, the winery and vineyards cover 55 hectares of clay soils rich in sandstone and humid weather.
85% Grechetto, 15% Trebbiano; Biodynamic certified; 12% ABV
Tasting Notes
has the glint of a freshly minted penny
lots of warmth on the palate; peachy acidity
really good with the prosciutto; good with the salami but not as good as the prosciutto
a lot more kiwi and stonefruit freshness when paired with the arugula salad
2021 Cardeto Orvieto Classico DOC
45% Trebbiano Toscano, 40% Grechetto, and 15% Chardonnay; 12% ABV
Originally founded as a cooperative in 1949 with 13 members, Cooperativa Viticoltori of Orvieto is now known as Cardeto and has 150 members. While they make a number of traditional local wines, their most significant one is the Orvieto Classico.
Tasting Notes
bright, shiny, and clear like I can almost see my reflection!
lightweight, soft citrus, very pale and drinkable
cuts the fattiness of the charcuterie
the truffle cheese was too salty and overwhelming for this wine
the most muted wine of the 3; kind of shy; not sure what food it needs to coax out more tertiary flavors
The Last Drop
I did one round of tasting but I need to go back and think some more about these wines without so much food. (I felt like i was more focused on eating).
This was a very foreign region to me and like meeting someone new for the first time. And I look forward to exploring more, if not all, of Italy's indigenous white grapes.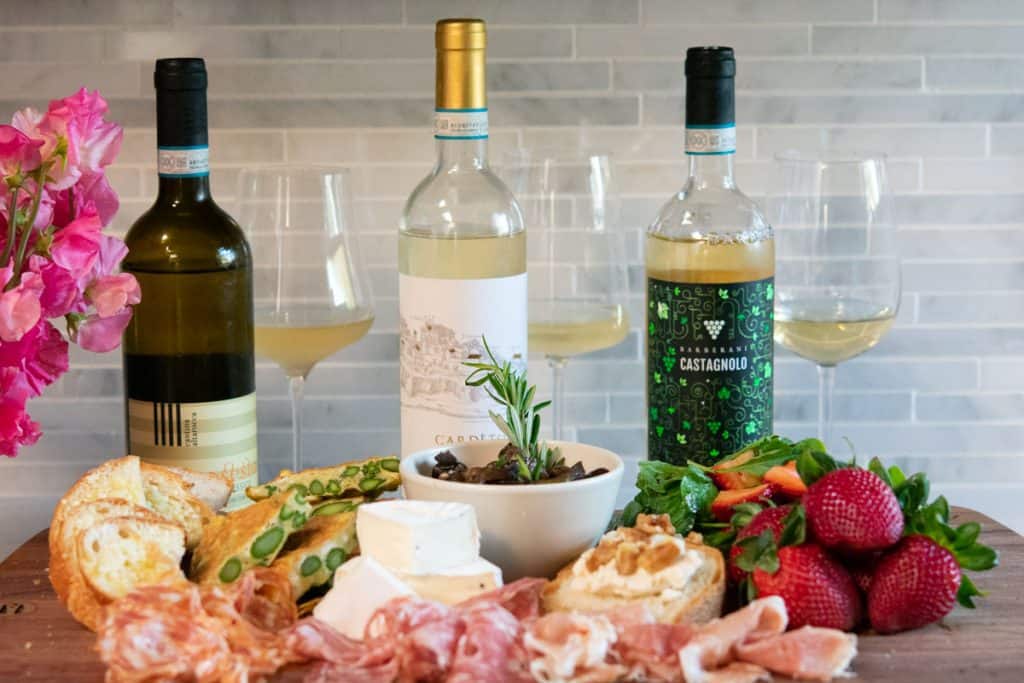 To learn more about the indigenous white wine varietals of Italy, check out these posts from the Italian Food, Wine & Travel writers: