Get some fresh inspiration and try these Eastern European salad recipes from a beautiful Ukrainian cookbook.
With the international spotlight shining on Ukraine, no doubt there has been renewed interest in their cuisine as well.
Just as you may enjoy the warmth of the Italian culture which ripples to their food, the incredible heart, belief, and tenacity of the Ukrainian people has sparked interest in their culture as well.
5 Interesting Facts about Ukraine
In case you didn't know, Ukraine stands apart from its European counterparts for these 5 reasons, as provided by Dook International:
It is the Largest Country in Europe. At 603.55 square km, it is the largest in terms of area, but has a population of 46 millions, which is smaller than France or Germany.
Is has the deepest metro station in the world. In fact, it takes 5 minutes to go 105.5 m deep to reach the Arsenalna metro station.
It has the 3rd most visited McDonald's restaurant in the world. It's right outside the Kiev train station and apparently the best fast food option in the city.
It has the 4th most educated population in the world. Over 99.4% of Ukrainians aged 15 and over can read and write and 70% of adults have a secondary or higher education.
It is the least expensive country to travel in Europe. You apparently won't find cheaper transportation or food anywhere else on the continent.
Ukrainian Cuisine
Since they are located so close to Russia and still use the Russian language, Ukrainian cuisine does have similarities to their neighbor.
According to Olia Hercules of the Mamushka cookbook, "When people suggest that I must be used to the cold, I realize how inextricably bound the Western vision of Ukraine is with that of Russia - vast, gray, and bleak...Our winters are mild, our summers long and hot, and our food a cornucopia of color and flavor."
Ms. Hercules lives in Britain and is a well known educator of Ukrainian cuisine.
The cookbook which features recipes she grew up with in Ukraine has influences from Eastern Europe as well.
These are four salad recipes featured from the cookbook. If you're looking for a taste of Ukraine, no matter the time of year, these are definitely worth a try. The ingredients are easily and readily available all year round.
#1 A Classic Cucumber Trio
It doesn't have to be cucumbers and sour cream, as a traditional Russian cucumber salad might use. This recipe uses yogurt with the addition of fresh radishes and tomatoes.
Whole milk yogurt would probably be the most savory, tasteful option, but use nonfat yogurt for a lighter option. If using Greek yogurt, add a couple tablespoons of water to thin out the dressing if desired.
Don't forget the fresh dill! So classic in an Eastern European dish for freshness and the way it marries so well with cucumber.
Cucumber, Radish & Tomato Salad
Cool, creamy, and delicious, the pink stained juices from the yogurt and tomato are also worth soaking up with some bread on the side. Recipe adapted from the Mamushka cookbook by Olia Hercules.
Ingredients
1

ea

English cucumber

sliced

2

ea

beefsteak tomatoes

½

bu

radishes

sliced

1

ea

green onion

sliced

3

Tb

dill

chopped

6

Tb

yogurt

salt and pepper
Instructions
Mix all the ingredients together.

Serve right away, otherwise the vegetables will continue to drip juice.

Serve with bread if you like to soak up the tomato flavored juices.
#2 Just Beet It (with Walnuts and Prunes)!
Beets cam be so messy to handle and take so long to cook.
But this recipe cuts them into wedges so they take less time to roast in the oven. You also peel the beets before cooking, so no need to handle wet slippery deskinning after the typical boiling method.
The addition of prunes and walnuts add a welcoming contrast of textures. The easy sour cream salad dressing ties all the ingredients together.
Beet, Prune, and Walnut Salad
This is a really fun recipe and unusual way to eat beets. The layered nature of the salad makes it easy to assemble and pretty to look to look at. Recipe adapted from the Mamushka cookbook by Olia Hercules.
Ingredients
2

lb

beets

peeled

2

Tb

oil

salt and pepper to taste
Salad Dressing
6

Tb

sour cream

1

Tb

balsamic vinegar

2

cloves

garlic

minced

salt and pepper to taste
Garnishes
8

ea

prunes

roughly chopped

¼

c

walnuts

toasted

2

Tb

cilantro leaves

for garnish
Instructions
Preheat the oven to 350 degrees F.

Peel the beets and cut into wedges. Cut the beets in half and then cut each half into 8 pieces. Toss with oil and salt and pepper to taste. Spread onto a baking sheet.

Bake for 40-50 min until tender and cooked through. They may also start to brown at the edges and that is fine too.

While the beets are baking, mix together the dressing ingredients. Depending how thick your sour cream is, add water if needed to make it just a little bit thinner so it will pour off a spoon when you dress the beets.

Once the beets are cooked, arrange them on a serving platter. They can be served warm or room temperature. Drizzle over the dressing and garnish top with the garnishes.
#3 Not Your Grandma's Green Beans
This is definitely a unique way to dress the humble green bean. By boiling it in water with a sliced onion and tossing them while warm with a fresh tomato dressing, this salad can be served warm, at room temperature, or even cold.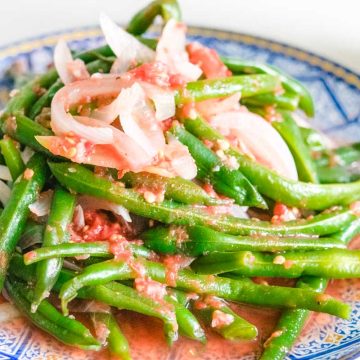 Green Beans with Fresh Tomato Vinaigrette
Green beans get a fresh makeover with a tangy tomato vinaigrette. This can also easily be made ahead of time up to a day in advance before serving. Recipe adapted from the Mamushka cookbook by Olia Hercules.
Ingredients
10

oz

green beans

2

Tb

water

1

ea

white onion

thinly sliced
Tomato Dressing
1

ea

beefsteak tomato

grated - see Note

1

ea

garlic clove

minced

salt

freshly ground black pepper
Instructions
Put the green beans, water and onion into a saucepan. Cover and cook for 10 minutes on medium heat until the beans are tender. You can cook to your preferred doneness whether that is crisp-tender or completely soft.

Mix the tomato dressing ingredients together and season with salt and pepper to taste.

Pour the dressing over the cooked green beans. Season again with salt and pepper if needed.

Serve warm, at room temperature, or cold.
#4 One Bean Salad
Three bean salad is a favorite American salad. This salad just features one of those beans, the kidney bean. Dressed up with warm spices, fresh herbs, and a caramelized onion, this is inspired from a Georgian recipe by William Pokhlebkin, a Soviet food writer.
Kidney Bean Salad
Recipe adapted from the Mamushka cookbook by Olia Hercules.
Ingredients
1

teaspoon

coriander seeds

1

tsp

fennel seeds

¼

teaspoon

fenugreek seeds

3

Tb

neutral oil

such as canola or grapeseed oil

1

ea

onion, small

sliced ¼ inch thick, pole to pole - see Note

1

can

kidney beans (14.5 oz can)

drained and rinsed

1

tsp

sherry vinegar

or other vinegar of your choice

½

teaspoon

brown sugar

3

Tb

cilantro

chopped

2

sprigs

parsley

destemmed chopped

2

sprigs

dill

destemmed and chopped

salt and pepper
Instructions
Toast the coriander seeds, fennel seeds, and fenugreek seeds in a small pan over medium heat until they start releasing their scent. Be sure to keep swirling the pan so they don't burn. Since they are so tiny, they can burn easily. You don't need to add any oil to the pan to toast the spices.

Grind the spices with a pinch of salt in a mortar and pestle or a spice grinder.

In a frying pan pan, add 2 Tb of oil and the onion. Cook over medium heat, stirring ocassionally until the onion is starting to caramelize and turn golden brown. This should take 10-15 minutes.

Add the kidney beans to the ban and toss just to warm them up a bit.

Add the remaining ingredients to the pan, including the crushed spices. Taste and add salt and pepper if needed.

Serve warm, at room temperature, or cold.
Wine Pairing
Salads are meant to be eaten fresh and so are most Sauvignon Blancs. Usually fermented in stainless steel tanks and sold soon after without much aging, it's best to drink Sauvignon Blanc within a few months of buying.
For pairing with Ukrainian salads, I chose a Sauvignon Blanc from Ukraine from the Shabo winery established in 1822. Yes, Ukraine does make wine! Much of it was in the Crimean Peninsula, which was unfortunately annexed by Russia, however there is still wine to be found in what remains of the country. Decanter had an excellent piece about the current state of the Ukraine wine industry under wartime conditions.
For a local choice and off the beaten path choice for Sauvignon Blanc, I chose one from the very sustainable winery 2Hawk in Oregon. You can learn more about their highly sustainably tasting room here:wo
A 3 Course Lunch in a Sustainable Wood Tasting Room at 2Hawk Winery
The Last Drop
Salads and Sauvignon Blanc are not just summer fare. A healthy dose of fresh vegetables inspired by Ukraine are welcome anytime of the year along with an affordable fresh wine, which most Sauvignon Blancs tend to be.