This unique, sparkling sweet wine is found only in a particular province in Italy and is fit for a priest.
Disclosure: The wine in this post was received as a media sample. All opinions are my own.
Known as the Blood of Judas in English, Sangue di Giuda is an Italian sweet wine from the Lombardy region in northern Italy, in a province called Oltrepo Pavese.
In the New Testament of the Bible, Judas is a disciple and one of the Twelve Apostles of Jesus Christ. As told in the Gospel of Luke, Satan overtook him, and he agreed to hand over Jesus to the Roman soldiers for 30 pieces of silver by identifying him with a kiss.
Guilt ridden after learning Jesus would be crucified, he attempts to return the silver and commits suicide by hanging himself. But it's too late. His betrayal sets into the motion the crucifixion of Jesus, his later resurrection, and the foundations of the Christian faith.
As local legend has it, the Lord allows Judas to redeem himself by resurrecting him from the dead to do a good deed which happened to be in the town of Broni in Oltrepo Pavese.
The town had a Covid like epidemic ravaging through the vineyards which could only be saved by a blood sacrifice, according to a wise prophet.
Judas offers to be the human sacrifice.
Just as he is literally about to be stabbed in the back (a fitting punishment for a traitor), a mystical force stops the knife from killing him.
Even though Judas did not have to sacrifice his life, the vines are reborn, flourish, and bear fruit once again.
In return, the villagers named the their sweet red wine after him.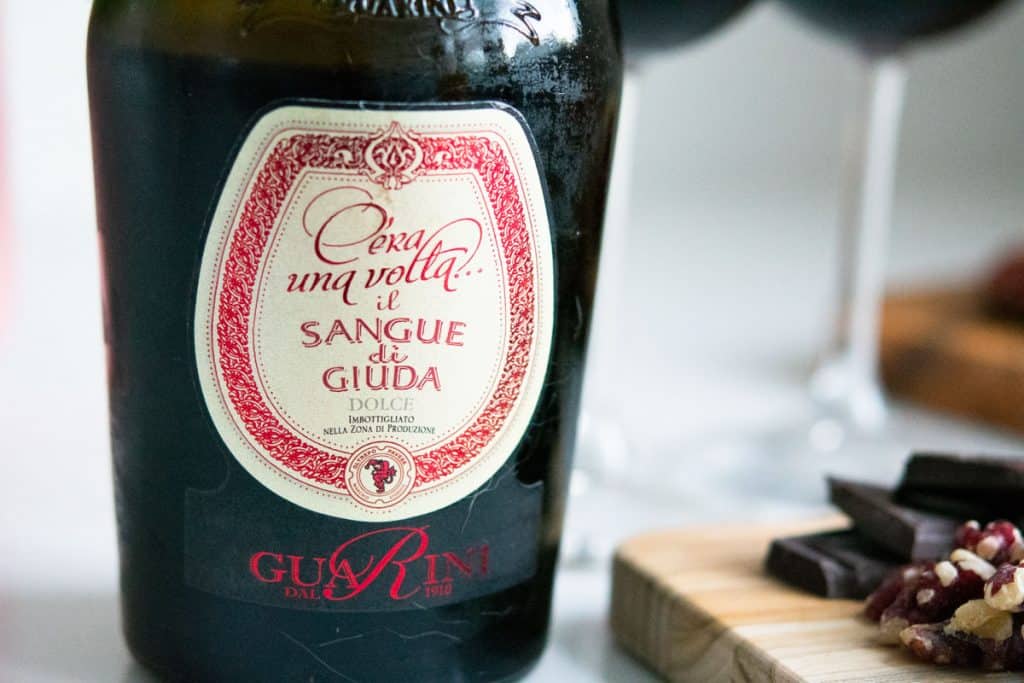 Made from indigenous grapes--Croatina, Barbera, Uva Rara, and Vespolina--this wine does kind of pour like blood.
Rich, thick, unctuous, and vampire purple, you can just feel the blood of Judas coursing through your veins (or at least imagine it).
This bottle from the Guarini Winery is made in the frizzante style from hand harvested grapes. It pours with a bit of foam that quickly dissipates.
It feels like suede in the mouth with lots of blackberry, blueberry, lollipop, and cherry cola. Sweet, yes, but much less syrupy than a dessert wine.
At just 7% alcohol, this wine might be served if the local priest came to visit your home and poured along side some cookies or a bit of cheese.
Other suggested pairings are almond paste, fruit tarts, aged blue veined cheese, and cake with dried fruit.
The recommended serving temperature is 50-54 degrees F.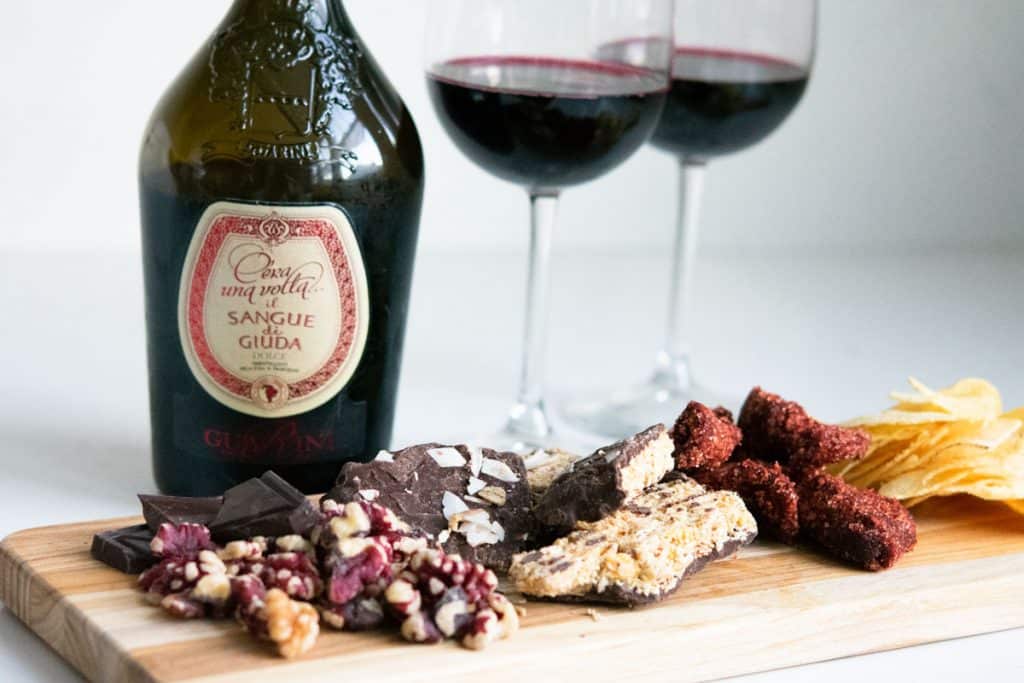 I chose to try my wine with a selection of plant based nibbles. This meant red walnuts, 70% bittersweet chocolate, coconut bars, chili spiced pineapple, apples, and truffled potato chips.
The clear winner?
The chocolate! That little bit of sweetness in the chocolate tamed the sugar in the wine and brought out more acidic, green apple, red fruit notes.
I also loved the wine with the potato chips for that salty, sweet combination. The chili pineapple was a little too spicy though and probably needed a sweeter wine.
Next time, I would try this with a homemade almond cake, since almonds have been growing in Oltrepo Pavese for centuries.
Oltrepo Pavese is also known as the Pinot Noir capital of Italy, and I had the chance to try and pair a lovely Pinot Nero with vegan road food.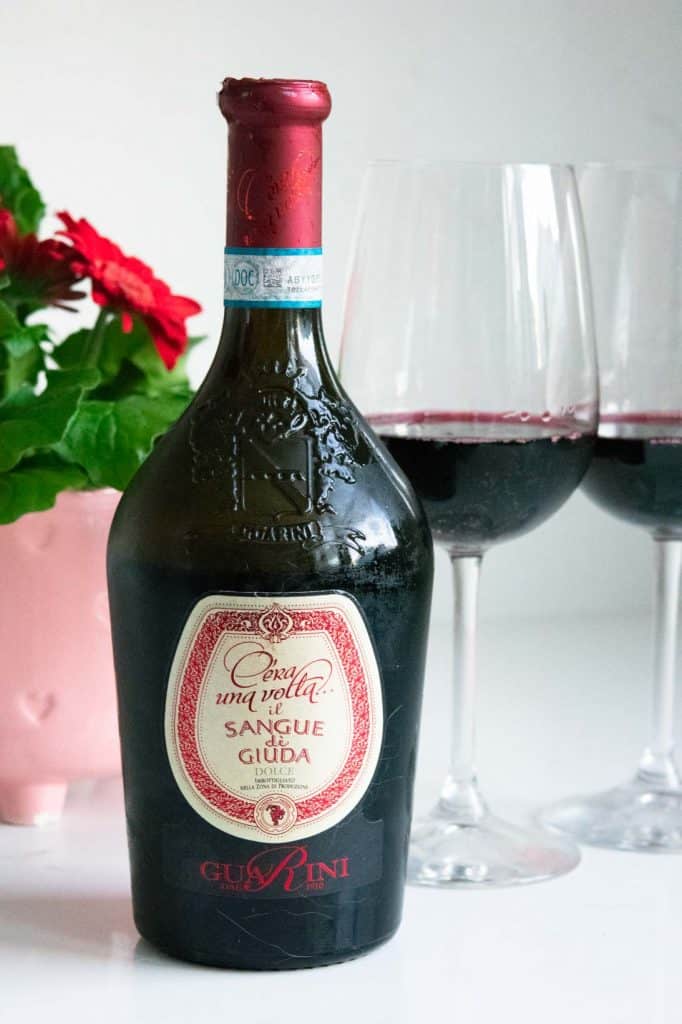 To learn more about the wines from this unique Italian region, check out these posts from the Italian Food, Wine, and Travel writers:
Payal of Keep the Peas shares Just Now Discovering Oltrepò Pavese
Camilla from Culinary Adventures with Camilla adds Second Pours of Oltrepò Pavese Wines with Braised Short Ribs and Puff Pastry"
Linda from My Full Wine Glass brings "Flying under the radar with an Oltrepò Pavese sparkling rosé"
Terri from My Good Life dishes about "Stone Crabs with Oltrepò Pavese."
Martin from Enofylz showcases "A Taste Of The Unsung Wines of Oltrepò Pavese"
Deanna from Winevore posts "Wine for the Priest! The Blood of Judas from Oltrepo Pavese, Italy"
Jeff from Food Wine Click! waxes about the "Surprising Wines of Oltrepò Pavese"
Rupal from Syrah Queen post "Oltrepò Pavese Wines -One of Italy's Best Kept Secret"
Gwendolyn from Wine Predator showcases "2 Pinot Nero from Oltrepo' Pavese with Polenta, Taleggio"
David from Cooking Chat reflects on "Tasting and Pairing with Oltrepo' Pavese Wines"
Wendy from A Day In the Life On The Farm checks out "Cheesy Vegetable Lasagna paired with Oltrepo Pavese Wine"
Liz from What's In That Bottle? suggests we "Check Out "the Other Side of the Pó" for Tasty Italian Wines "
Jennifer from Vino Travels adds "Pinot Nero in Abundance in the Oltrepò Pavese"
Lisa from The Wine Chef writes "Off The Beaten Path: Oltrepò Pavese, A Wine Region to Know About."
and here at Avvinare.com I wrote about "Wine Treasures To Be Found in Oltrepò Pavese.'"
Thank you so much to the Consorzio Tutela Vini Oltrepo Pavese for providing the wine samples. Cin cin!